The fourth segment of the #DidYouKnow campaign with Everton highlights the importance of hard work and consistency.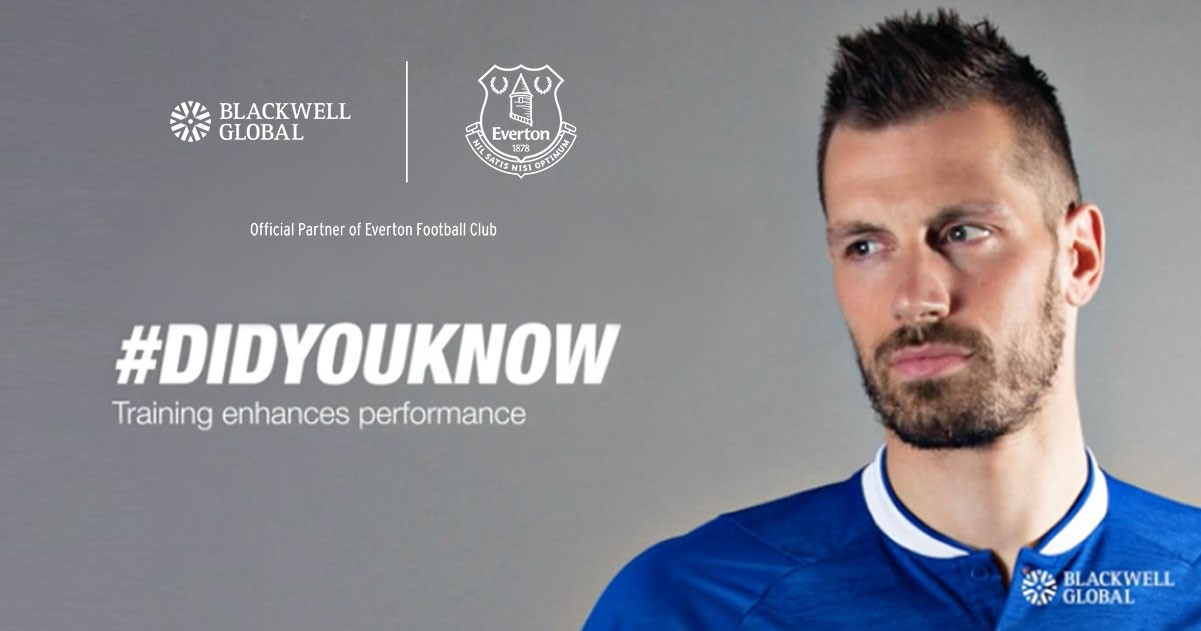 London, 15 Dec 2018 – Blackwell Global expands on its #DidYouKnow campaign, a collaboration with Everton Football Club. This fourth segment features Blues midfielder Morgan Schneiderlin in the "Training Enhances Performance" video that concludes with a competition and exclusive Everton-themed prizes.
A consistent dedication to training hard is a key reason for Schneiderlin playing at the highest level and in the video he shares how he keeps up with training even on his days off. With a dedication to honing his skills both on and off the pitch, he emphasises that even time off can be time well spent and his importance to Everton's squad is a testimony to his admirable work ethics.
The "#DidYouKnow Morgan Competition" comprises of a series of questions based on the promotional video and participants who answered correctly stand to win the grand prize of a VIP hospitality experience for an upcoming game at Goodison Park in Liverpool, a one-on-one coaching session with Professional Trader Paul Wallace, as well as "The Trader Pack", made up of three months free access to The Trading Diary, 12 months free Virtual Private Server (VPS), the MT4 Accelerator and Indicator Packages.
Blackwell Global believes that traders can learn from Schneiderlin's example by making good use of their free time to improve their skills. With convenient online access, its comprehensive educational portal, including the largest for cryptocrrencies, shows the brokerage is determined to help traders improve their skills through an ample range of learning material and comprehensive support. In-depth market analysis and news content are actively curated, alongside other tools such as The Trading Diary and MT4 Accelerator Pack to help traders make well-informed decisions every single time.
For more information, please visit www.blackwellglobal.com/morgan.
About Blackwell Global
Founded in 2010, the Blackwell Global group of companies ("Blackwell Global") were established to offer investment solutions for private and institutional clients, including financial services and products ranging from "full-stack" financing solutions, as well as trading services such as forex, contracts for difference, spot and bullion precious metals, global stocks, options, futures and fund management. Blackwell Global provides superior liquidity, 24-hour technical support, market research tools, educational materials, professional partnership programmes and fully integrated trading platforms for its clients. With a global presence in over 100 countries supporting more than 100,000 trading accounts, Blackwell Global has main offices in the United Kingdom, Cyprus, New Zealand, Hong Kong and Cambodia, and is regulated by FCA (UK), SECC (Cambodia) and SFC (Hong Kong). In July 2017, the group signed a multi-year partnership with Everton Football Club to become their first Official Forex and Brokerage partner.